Renewable energy can drive economic growth and environmental benefits in communities most impacted by underemployment, pollution and climate change. Since XXXX, we've installed solar for XXXX households and engaged XXXX people in solar education and training.
---
People
Reduced energy costs mean more money invested in families and communities.

Households Served
Homeowners and renters who qualify as low-income

COMMUNITY FACILITIES SERVED
Multifamily affordable housing buildings, nonprofits and other service providers

LIFETIME SAVINGS
Fewer expenses = more money in families' pockets
---
Planet
Solar helps environmentally burdened communities see a brighter, clean future for generations to come.

KILOWATT HOURS
Clean power for families and communities

TONS OF GREENHOUSE GAS EMISSIONS PREVENTED
Over an expected 25-year lifetime

CARS TAKEN OFF THE ROAD
Lifetime CO2 reduction equivalent
---
Employment
Our training programs help participants launch new careers in solar

PEOPLE RECEIVED HANDS-ON EXPERIENCE
Participants include volunteers, students, and job trainees

TOTAL JOB TRAINING HOURS
Time spent on our job training focused installs

JOB TRAINING PARTNERS
Schools, colleges, vocational programs, and community based organizations
How Our Work Transforms Lives
People
Solar saves families money, which they can use on food or clothing, or save for college tuition. MORE +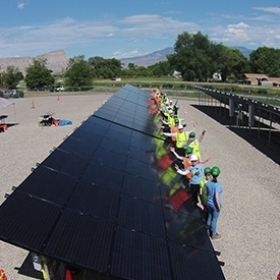 Planet
With solar, we help environmentally burdened communities see a brighter, cleaner future for generations to come. MORE +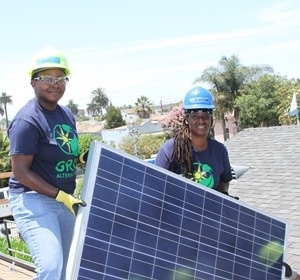 Employment
We provide hands-on training that can help launch a new career in solar. MORE +
Where We Work